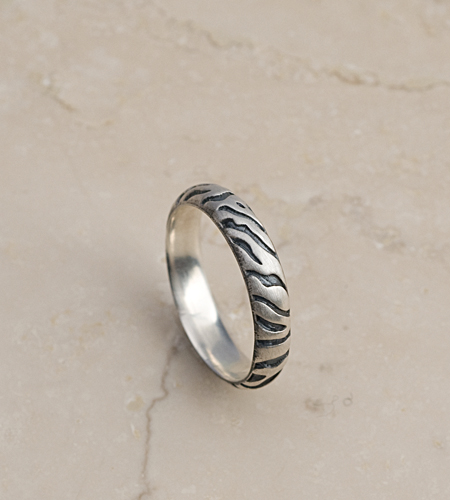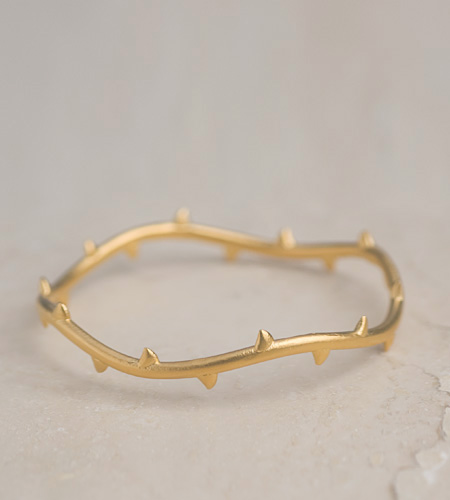 We promise we didn't forget... it's just that our Mommy came to visit and there was a big performance and some crazy deadlines. We didn't get home until after midnight. So we're giving our wondrous readers a double-dose of
Julia Failey
today. JF Week ends tomorrow so stay tuned for one last dose of this artist's stunning and completely wearable jewels.
On the left we have the Tiger Ring in reclaimed sterling silver. At just $65, we may pursue this band as a solution (finally!) for the animal-print trend that is usually oh-so-tacky. It's a little dose of the fierce print without being too showy. We don't like showy; we like stunning. It's only available in size 6 or 7, but I bet if you're willing to pay a little extra JF might make a custom size for you. She does custom bridal orders, so why not custom sizes of her collection pieces? Be sure to read the adorable description that speaks to the majestic nature of tigers and the sweet quote from Helen Keller toward the bottom of the listing,
here
.
On the right is the equally-fierce Vine Bangle in gold. While this is a tad pricier at $115, it could be worn with almost anything. If you've got a little extra cash to spend, I would suggest buying three for some stacking options; but the bracelet works just as well alone. The spikes are detail enough to make the piece interesting and to expect a few compliments. But the bangle is simple enough that you'll know that if people are staring, it's at your good taste. We imagine this as a good accessory for a concert, a date, or catching up with a close friend at a cafe. Take a closer look,
here
.
Don't forget to come back tomorrow for our last installment of Julia Failey Week!! And look out for some more kitschy treats next week if JF isn't sitting well with you...