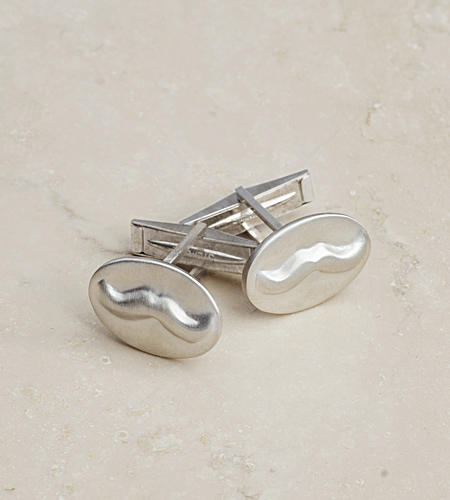 We just decided. This is going to be a week of
Julia Failey
.
Rachel Zoe
turned us onto her in
The Zoe Report
e-newsletter the other day. Not much for Ms. Zoe's style in general, every once in a while we come upon something grand. There was something about the pictures shown in the article, though definitely not the pieces we would choose, that made us click click click on over to Julia Failey's
website
. Mmmm.... definitely a good decision. So here we are, after perusing the website for an inordinate amount of time, deciding to make it Julia Failey Week.
The first installment - these humorous Mustache Cufflinks. There are a thousand reasons to be in love with these and with JF in general. So one hundred percent of the proceeds from these cufflinks go directly to the Prostate Cancer Foundation. We love this and we love the subtlety of the raised mustache shape placed upon the smooth oval disc. We might give a pair of these to our certain-somebodies who usually aren't too keen on dressing up. Get them for $115,
here
.
Still to come in Julia Failey Week - animal instincts, the nature of eco-friendly JF, an octopus floral, lots of wings, and a prickly bracelet!!