Today is filled with all sorts of goodies. We'll start with the fun April Fool's Day joke. This mustache necklace by GloriousHats on
Etsy
can (and is meant to) be worn around the head as a fake mustache. We love it. It's felted and beaded and beautifully large. It would be a lovely addition to your costume wardrobe or for a rainy day at the office. It's hand sewn with silk thread, stuffed with wool batt, and accented with hand-embroidery in white yarn and glass seed beads. The best part is that it's entirely handmade and actually "fits comfortably on the upper lip". You can tell from the beautiful pictures that the curve of the center of the mustache does fit well against an upper lip. At just $35, definitely enjoy this version of the mustache craze
here
.
Next we have a slew of Fool's Gold jewelry for you... get it? FOOL'S gold, April FOOL's. Right, now joking aside. These are beautiful pieces...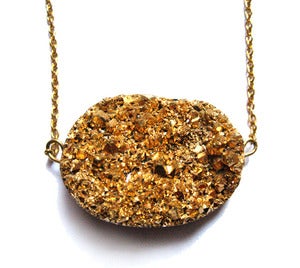 Left to Right:
Pyrite Cluster Statement Necklace
by
ACommonThread
(on Etsy) $37,
24K Gold Plated Chalcedony Pendant
by
Snoozer Loser
$70,
Pyrite Cocktail Ring
by
AmandaJoyJewelry
(on Etsy) $160,
Fool - Pyrite Druzy Filigree Earrings
by
SoulyStonesLite
$70,
She's Got Them Twisted
by
PoppySeedsDesign
$65.
Less than the real thing, these are lovely interpretations of Fool's Gold, a material that typically works for "fashion jewelry" and shopping malls rather than beautiful jewels sophisticated fashionistas like yourselves prefer to wear. We're tempted to go on an April Fool's binge and buy all five of them! Maybe you should too. Don't forget to come back tomorrow for our Easter edition!